Written by Christine Cynn
As the veil of COVID-19 restrictions starts to lift, allowing for small gatherings, we find ourselves reflecting together on this period of isolation. Perhaps covid is a message from the future, a flash of lightning from a perfect storm of inequality, biospheric phase change, economic crisis, mass surveillance, social polarization. What are we learning from this? What should we be learning?
Growing the seeds of the future
Co-creating a better vision for the future with diverse groups of partners has always been at the heart of Ice-9's mission. Nearly every project in our portfolio has some interdisciplinary aspect. We experiment, mix and match scientists and artists, youth, activists and politicians in an inclusive and playful process. We strongly believe that to create a better future for all, we need to listen to all the voices, loud and quiet, and especially the voices of those people systematically excluded from the conversation. 
Our Ulab journey began, unwittingly, when we joined the city farm at Holt, an initiative which saved one Tromsø's last green spaces from becoming yet another housing development. We love Holt, not least because it feeds us and our community on so many levels. While getting our hands dirty in some turbo-compost, we learned about something called TheoryU. Holt leader Ute Vogel said that without her training in TheoryU, she would never have dared to begin the city farm. She encouraged us to consider taking a three-month online course.
We had a look and found the intentions behind TheoryU resonated deeply with us. TheoryU is an action research methodology for profound social change through awareness-based collective action, developed by Otto Scharmer, Senior Lecturer in the MIT Management Sloan School and co-founder of the Presencing Institute. 
We all registered for a free online course called Ulab: Leading From the Emerging Future (or Ulab 1x for short), along with Ute and Øystein from Holt, and Lisa Elena Kettemer, PhD stipendiat in Arctic Marine Biology at UiT. We met for weekly coaching sessions, and created the Ulab Arctic Tromsø hub on the Presencing Institute community site, a network connecting groups from over 100 countries. Over time, we realized that we had embarked on a journey both personally and professionally transformative. 
Ulab Arctic Tromsø hub 
When the Presencing Institute made a call for group applications to Ulab 2x, a facilitated course to help us put TheoryU into practice, we all thought–YES. 
In light of the global covid-19 pandemic, we decided to begin with exploring the concept of collective resilience. What strengths and weaknesses are we seeing in our communities? Can this unexpected stress test help us prepare for the bigger disruptions related to climate and ecosystem breakdown? These are the questions that founded Resilience Action Lab.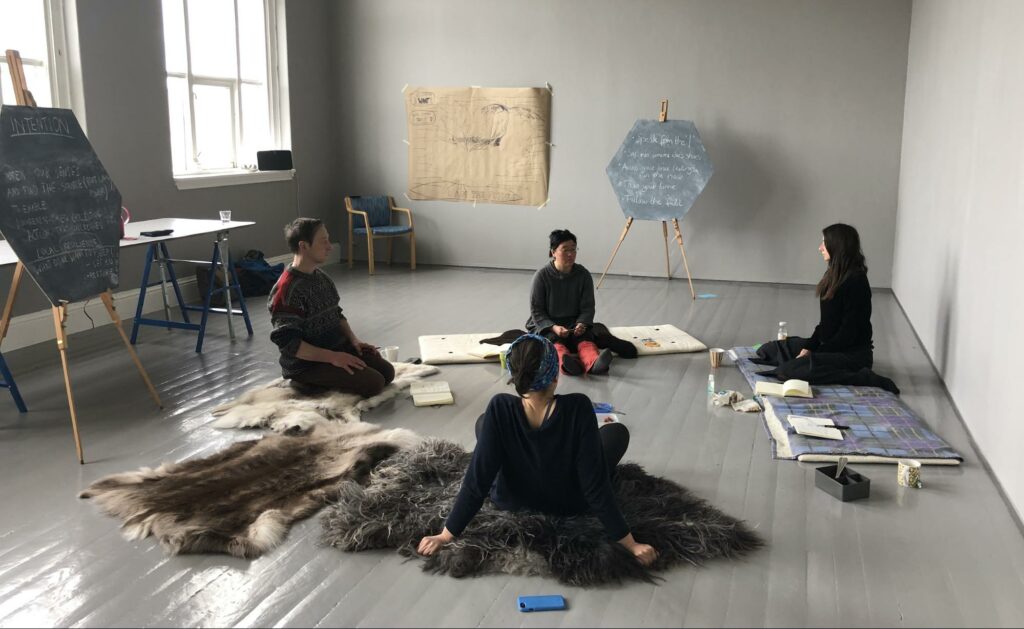 Workshops at Tromsø Kunstforening
In late May, it became possible for small groups to meet in Tromsø. This process overlapped with an invitation for Ice-9 members Christine and Valentin to work as artists-in-residence at Tromsø Kunstforening. We invited our extended group to gather in this beautiful art space to explore resilience through a series of activities including 3D mapping, Social Presencing Theater and a collective journaling practice called 'Stepping into the field of the Future'. 
The goal of these processes is to map the current reality of a system from several perspectives, and identify the highest future potential of the system. According to TheoryU, all systems are in a constant state of change. Like a fog lifting, wisdom emerges when previously isolated groups and individuals become aware of themselves within a larger whole. These insights help us identify the practical steps to take us towards a future we actually desire. 
By embodying different elements of our local Tromsø community system (like business leaders, politicians, youth, indigenous people, community leaders, immigrants), we could see where the cracks of the future are emerging. One key insight was that the power bubble around business and political leaders is an illusion. We realized we can burst the power bubble by shifting our attention to the real source of life and vitality, what we called the 'Bird of Life'. The Bird of Life is supported by cultural and biological diversity, by indigenous knowledge, and by the interconnected ecological cycles of the biosphere. 
The way forward 
Two prototype ideas that have emerged from the group process are a local Resilience Map and a pop-up Resilience Cafe. The digital interactive map will include locally crowdsourced stories and reflections on the global crisis. The pop-up resilience cafe is a meeting space for locals where food and stories can be shared. Valentin and Christine are also transforming the boathouse in front of Kunstforening into a greenhouse, as part of the 100-year jubilee exhibition at Tromsø Kunstforening (open 21.August through early-October). The goal of these prototypes is to help us get an overview of local resilience (the map) and bring people together to build community and discuss ideas (the cafe), all of which makes us more resilient in the face of the challenges ahead. 
Onwards and upwards! Join our mailing list to get updates on our prototypes and receive invitations to Ice-9 and Resilience Action Lab events.